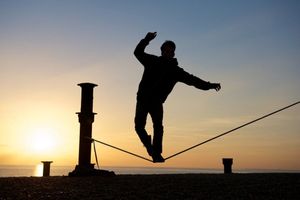 WALKING THE COVID TIGHTROPE
Dear friends. How are you all doing? The Covid blues hasn't got you down, has it? If it has it is understandable. It frankly sucks in a lot of ways, right? I have my moments, too, as I do love socializing, but I am keeping my chin up and staying in touch with friends and family as much as I can. I hope you're hanging in there, too, and are making the best of your unique situation. There are silver linings everywhere if you look for them. Stay positive, better times are ahead! 
Do you sometimes feel like you're walking a tightrope to stay on track with your projects and ambitions now during Covid. I know I have definitely been feeling that way for a while. The slightest gust of wind and it all falls apart. As you know I have been working on some big music projects for a while, with lots of money invested and many people involved. Sadly, the two WORLD PREMIERE concerts I had planned for the end of December have been cancelled, or I should really say postponed (I will be back for sure!!). Those concerts have been a dream of mine this whole year, but it's just not going to happen in light of the new lockdown restrictions in place here in Ottawa. :(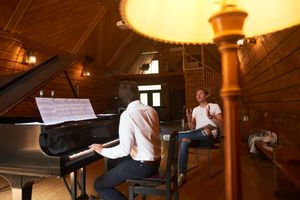 But I keep on walking the tightrope as I am heading into the studio again next week for 3 full days of recording to finish Letters From The Moon, my debut album . Every day I wake up and the recording is still ON is a blessing, a sigh of relief. I think I am handling the balancing act quite well so far, but I'm also just mentally prepared for anything to go sideways between now and then. Someone involved might get sick, or even just have symptoms, which would keep them from participating. Next week cannot get here soon enough!
Please wish me luck. I will keep you posted on the progress!
 
MOONSTRUCK - FIRST REVIEW! 
I am super excited to share my first ever music review. It's just a short blurb, but hey, anyone who takes the time to listen and write down some thoughts on my music is ALRIGHT in my book, and he did an amazing job getting the message of resilience! Thanks to the 'Music Dances When You Sleep' music blog.  
"Marcus Moon is a Canadian pianist/composer who's most uplifting, moving creation entitled "Moonstruck" we are excited and happy to share with you today. Essential from the first notes, the calming, elegant melody is soaked in thought and understanding, as much as it is loving and forward-oriented. Resolving gracefully around it's classical core, the composition is as universal as any creation of the classical titans of the past. Moving on to a minor-key, the pianist reassures the listener in his intelligence and a broad understanding of the nature of life, which may at times be a handful. Then, in the most delightful of ways, the piece returns to it's main theme, screaming resilience, courage and goodness under the soft, gently played keys. Finally, all of this magnificent musical endeavor is accompanied by the coolest, visually rich and coherent music video. Do not let this one pass you by, dear readers!" 
See the full Moonstruck review here!
 
MOONSTRUCK NOW STREAMING
Nearly 3 weeks have passed since the release of my debut track, Moonstruck (download) (music video). Great news for all you streamers out there is that it is now available on ALL the music streaming platforms you can imagine. Do you use Spotify, Apple Music, something else? No worries, it's available wherever you want it!

Marcus Moon on Spotify

Not only is it available, it is also getting a lot of attention from very early on. It has already been included in over 10 different playlists on Spotify, and many more have notified me that they want to use it shortly. I am so grateful to all these Spotify playlist creators for sharing my music with a much wider audience than I could myself. Here are a few of the playlists where my music is included. If you love great piano music, why not take a moment to spin these on your headphones, and also support my supporters. :) 
Click the links to pull up the playlist on Spotify.
That's it for now. My mailing list and blog audience is growing every day, and I can't tell you how inspiring that is to me! It would be pretty sad writing all of this if nobody was reading it, right? :)

Remember, you can always comment on my blog posts or write me back at any time. Nothing is more important to me than my new fans!
With lots of love always,
Marcus