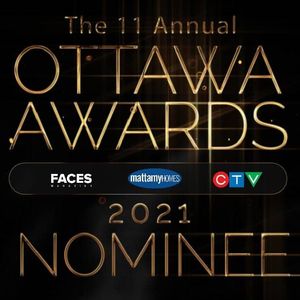 Vote for Artist of the Year Nominee... Marcus Moon!
Dear friends, happy new year to you all! I hope you had a good holiday season and that you're off to a good start in 2021.
I have enjoyed some well-deserved downtime, including a lot of Netflix and couch time, as well as long walks outside. After a very intense 2020, it's been good not to think about making music for a while :)
I have also enjoyed watching how incredibly well my music has been received. It is truly what every artist dreams of. On Jan 8 I received a nomination for Ottawa Artist of the Year, an annual award organized by Faces Magazine. 
I am so grateful for having been able to bring my dream of being an artist to life, and I am deeply thankful to those who paid close attention to my journey and supported me. I didn't get the music out until late in the year, but my hard work leading up to the final album release did not go unnoticed.  
Grateful to have been considered for the award, but now that I am nominated I want to win this thing :) This is an award that is 100% decided by the people, by the fans, so I ask that you take a moment and leave a vote for me. You can vote from anywhere in the world, and you can vote again and again EVERY 24 HOURS, until Jan 30. If you like what I have accomplished in 2020, I humbly ask for your vote, or many of them! Ottawa is a small city, and I can assure you that EVERY vote counts. Of course, if I don't win I pledge NOT to blame the rigged system, but to concede to the winner. :)
VOTE NOW (scroll down past sponsors, select Arts & Music category, then vote for me under Artist of the Year subcategory. Thank you!!
Crushing it on Spotify
Just 14 days after its release on Spotify, and my debut album Letters from the Moon is going THROUGH THE ROOF on Spotify. As I write this, my album has been streamed some 200,000 times and the number of averaged monthly listeners is over 12,000. At any given time some 50 people are listening around the world. The number of followers is also rising steadily and is now at almost 200.
Songs have been featured on some 250 playlists, with audiences ranging from a few hundred followers up to 50,000 followers. My songs have been saved a total of nearly 300 times, meaning that someone liked a song so much they saved it to their private library for repeat listening. Sweet!
I have mentioned before that however gratifying this is on a personal level, it is just as exciting to see NEW classical music getting these numbers. I am passionate about bringing contemporary classical music to a wider audience.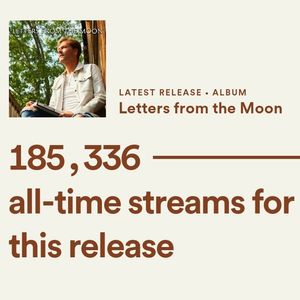 Chart Successes
Beyond Spotify I have also seen great success for some of my songs on the Apple Music iTunes charts. The most prominent charting was for The Moon Represents My Heart that for a day managed to hold on to the #1 spot on the iTunes UK Classical Top 100. A short time on the throne, but just getting there was quite an achievement. Earlier I had seen Moonstruck at #5 in the UK and #1 on the South Africa iTunes charts.
 
Wedding Waltz - Official Music Video
I hope you didn't miss the music video for Wedding Waltz, my latest single release off the album. Wedding waltz reflects the joy of a wedding, but not without also reflecting on the challenges of marriage. I made it upbeat, light, and almost a bit goofy in the major key. For the minor key change, I used a bit more drive and attack on the keys. It turned into some kind of roller coaster effect as Buzz Music also picked up on in their recent review of the track.
"The piano forward ballad that "Wedding Waltz," embodies is quite elegant with plenty of room to allow the bliss in your imagination to travel as the arrangement does. Creating a roller coaster-like effect with the way the composition travels from start to finish, Marcus Moon radiates his talents as we take in all he has to offer as a composer."
The music video further communicates a feeling of a higher 'cosmic love' that transcends space and time, which I also wanted to express. The video and music together allowed me to do that. What do you think? Let me know.
Wedding Waltz - Official Music Video

UNTIL NEXT TIME
Thank you for reading and for your support. If you want to leave votes for me that would mean a lot. Also, as always you can leave a comment on this blog post, or anywhere else you find me online. I am here for you if you ever wanna reach out and ask me something.
With lots of love always, 
Marcus
Marcus Moon on Instagram

Marcus Moon on Facebook

Marcus Moon on Spotify