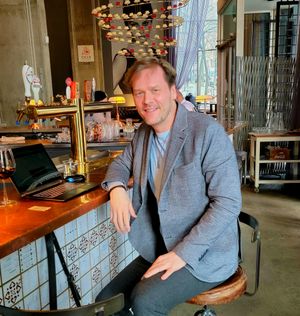 Greetings from the Dark Side of the Moon!
Dear fans and friends, it has been a while since you heard from me. Sorry for not writing sooner. I have missed you.
How are you doing? Over a year into this pandemic now, and sadly this is no longer just a rhetorical question. I am sure that many of us may not be doing quite as well as we could hope for. Personally, the pandemic has challenged me in ways I never expected and the best I can say about it is that I have learned some new things about myself, and in retrospect, if it is not too early to say that, I have grown.
In recent years I have felt that I finally acquired a good sense of self, and how to perfectly balance my need for those creative moments in solitude with that much needed time for socializing. Basically, I had the "work hard, play hard" regimen down to a tee. I had earned an inner satisfaction and strength that would carry me through even the toughest moments. Well, that inner strength would soon be challenged like perhaps never before.
Like so many others in this pandemic, and maybe especially those who share my situation of living alone, I suddenly found myself without one half of the equation for a balanced life and a healthy mind. Social connection.
No family gatherings, no friends over for dinners, no social events. Some of the things that were the most important to me had been completely walled off. During the worst period of my isolation from November to recently, the image of being a poor rat subjected to some cruel scientific experiment crossed my mind more than once. In this experiment I found myself stripped of any social nutrition and left to my own devices. Just like for the rat, my only way out of this wall maze would be through self-reliance, but I must admit I got quite lost searching for my way out of this walled off existence. More than once I found myself scratching the walls. Perhaps I was not as self-reliant as I thought I was. As Christmas and New Year's Eve came and went, with the holidays for the first time in my life spent in isolation, I found myself tired and unmotivated, without a clear sense of purpose and meaning. Daily tasks became giant hurdles and the natural joy of my own being was hard to find. 
Depressed? Maybe, but I have experienced depression earlier in life, and this was different. Clearly, this uninvited social experiment had shown that, paradoxically, there can be little self-reliance without some help from family, friends, and kind strangers.
True wisdom is always hard-earned, and I am thankful to now be able to say that I am about to conquer the maze. I am going to make it out and I will emerge stronger than I have ever been. With me I will bring a much deeper understanding of what my true values are and what is important to me. I will never take the precious moments I share together with family and friends, or random chats with a friendly stranger for granted again. 
Not that this pandemic is something any of us would wish for again, but hopefully, the lessons we've learned can feel so valuable that we can look in the rear view mirror at this period as not only a dark chapter of our lives, but also as an important time of personal growth.
On a final note, thank you for your continued support of my music through these tough times. I have thoroughly enjoyed seeing my music doing so incredibly well on streaming platforms, and I have mailed a lot of signed CDs, including to many of you reading this, but I think that will be a topic for my next post. I promise, it will not be so long until next time. 
With lots of love always, 
Marcus
Marcus Moon on Instagram

Marcus Moon on Facebook

Marcus Moon on Spotify