The Countdown Has Begun!
Dear friends. Thank you for showing your support along the way. It truly means the world to me. I love sharing my passion for making music, and please believe me when I say that my excitement at this time could not be any greater. After well over a year spent writing and planning my debut album, Letters From The Moon, I am finally heading into the studio to record on September 22. Dreams do come true!
The two songs we are recording on this day is my debut track Moonstruck, as well as Wedding Waltz. 
Moonstruck

This is actually some of the earliest music I wrote for the album. It is a solo piano piece 'inspired by real life events' :)
We have all been there. You care deeply for someone, but things take a bad turn, and you must let go of something beautiful. Ouch! The harder you try to hold on the more they keep slipping through your fingers. Eventually, however, you accept what is, and move on. You may not forget, but you go on. What I like about this piece is that the message can be universally applied to many different types of relationships. Family, friendship, love.

I hope you're gonna like it as much as I do.
Available for download on my website on October 1.
Wedding Waltz
I wrote Wedding Waltz a year ago for a wedding of some dear friends. I am so happy to see it soon reach a broader audience. I hope to see it played at many weddings. Who needs another Strauss waltz, right? :) 
The song is in a bright major key. Upbeat and happy it sets the tone for the joy of seeing two people deeply in love. However, it's hard for me to write an ALL happy song, haha, life is often more complex than that, so a small part of the song is in a darker, minor key to remind the couple of the challenges that lie ahead.
Oh and I hope this makes you want to dance, wedding or not :)
Available for download on my website on October 31.
Pianist Carson Becke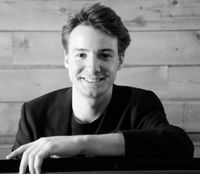 I am so humbled and blessed to be working with pianist Carson Becke, one of Ottawa's absolutely finest pianists. He holds a doctorate in music from Oxford University, England, and has performed extensively as a soloist and chamber musician around the world. He is also the co-director of Pontiac Enchanté, a concert series in Luskville, Quebec. 

The Recording Venue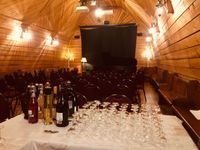 How lucky am I also to be recording in such an amazing venue? Venturing Hills Studio is not your average recording studio. Located on an actively operating horse farm in Luskville, near Gatineau Park, Quebec, the studio is an actual barn converted to a high class performance venue and studio. I feel that the rustic atmosphere of this place will work fantastically well with my very heartfelt music. To top things off, this studio houses a gorgeous Steinway grand piano (Model D). There is no better piano that I could wish to have my music recorded on.
So, there you have it... this rocket ship is finally about to blast off and we are going all the way to the Moon. Thank you for being with me on my journey. Stay tuned for much more!
With lots of love always,
Marcus